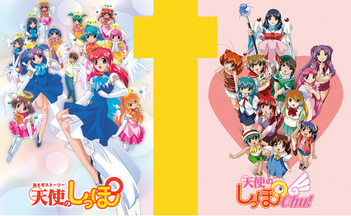 Angel Tales (おとぎストーリー 天使のしっぽ, Otogi Story, Tenshi no Shippo) is an anime series produced by Wonderfarm and Tokyo Kids . The series was broadcast by the anime television network, Animax across its respective networks worldwide, including Southeast Asia, East Asia and South Asia, in English and other languages.
The series was licensed for distribution by Bandai Entertainment in North America.
There are two seasons released of the series.
Seasons
Angel Tales (In Japan known as Tenshi no Shippo)

Angel Tales Chu!

(Wasn't released in America, and is known in Japan really as Tenshi no Shippo Chu!)
Trivia
It should be noted that there was a slight possibility of a season 3, as in the ending of season 2 it says "To be continued", however no season 3 was ever to release. It is unknown why Wonderfarm never released a season 3 for the series. It could be possible that the season 3 never was created by their was no high rantings on the series. However, there is many possibilities why the season 3 was never released, but it is unknown what the real cause was.